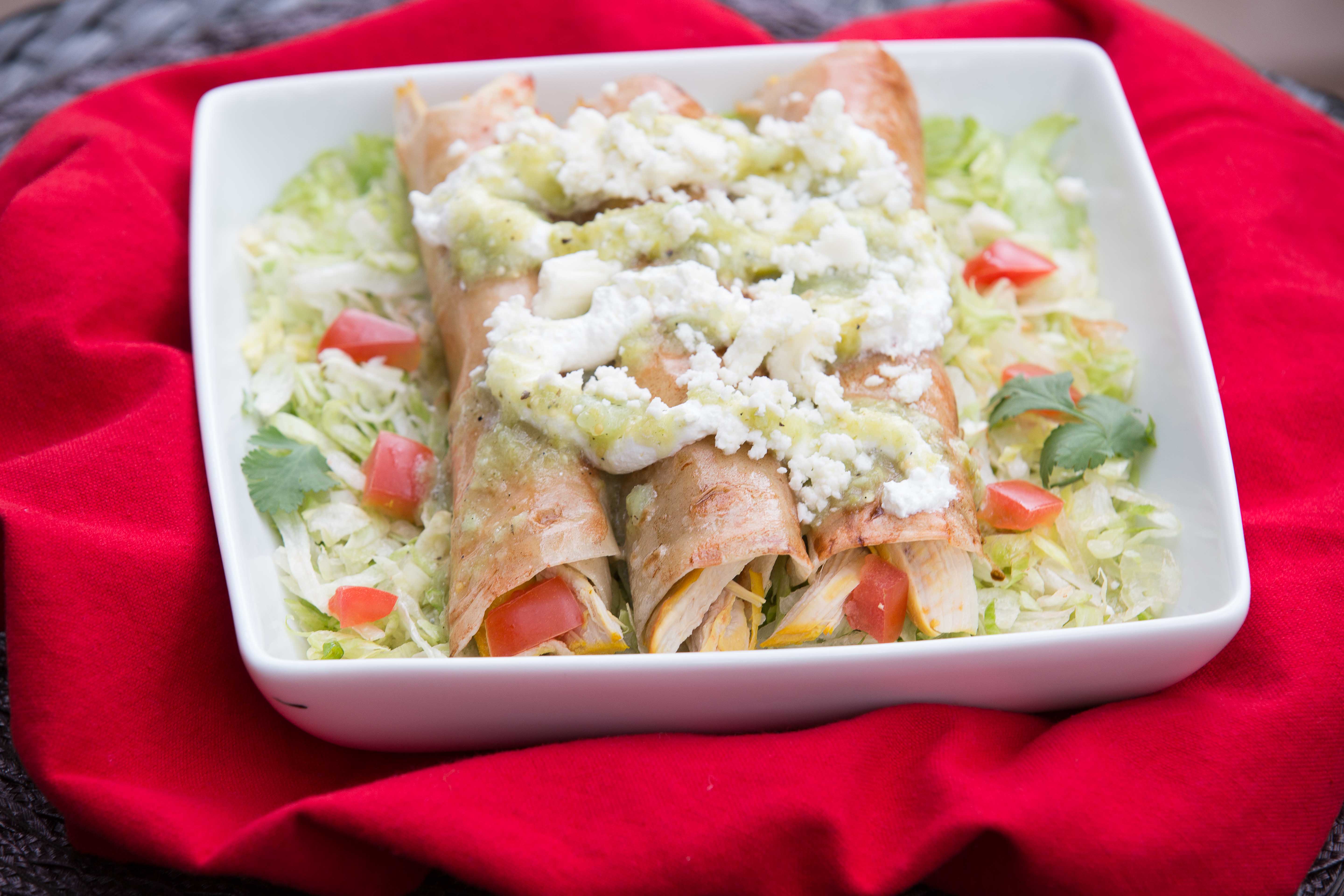 Chicken Flautas
---
Prep Time: 30
Cook Time: 10
Difficulty: Easy
Servings: 4
---
Ingredients
8 flour tortillas La Abuela
1 cup cooked shredded chicken
1 tbsp. chicken consome
1/2 cup shredded Mozzarella cheese
1 Roma tomato
Cooking
Garnishes
1/4 cup Mexican cream
Shredded Iceberg lettuce
Salsa Verde or any salsa of you choosing.
Crumbled queso fresco
Directions
Begin by adding 1 chicken breast in a 3 quart size saucepan and covering completely with water. If desired, add the powdered chicken consommé to add flavor to the liquid and chicken. Bring to boiling on medium-high heat; reduce the heat. Cover the pan and simmer until the chicken is no longer pink (170 degrees F). Once cooked, let cool and shred the chicken.
Measure out all ingredients.
Dice the tomato, Chop or buy pre-shredded Iceberg lettuce, and shred or buy pre-shredded cheese.
Once all the ingredients are measured, proceed by cooking the flour tortillas La Abuela on a comal or skillet. Be careful to cook to a point where the tortilla remains flexible and easy to roll. Set aside.
In a bowl, add the chicken, cheese, and tomato; Combine.
Place 1 to 2 tbsp. of the chicken mix on each tortilla and roll it up gently. You can insert a wooden toothpick to hold the Flauta in place. (Remember to remove before serving)
Heat up a large skillet on medium heat until hot. Add enough oil into skillet to cover the Flautas. Once the oil is hot, gently place the Flautas in it. Fry them about 1 min, and flip; Fry just till they are golden brown. Remove Flautas from skillet and place on a plate lined with a paper towel to absorb excess oil.
Plate

On a serving plate, place the lettuce on first. Proceed by lining up the Flautas on top of the lettuce, followed by the cream, salsa of your choosing, and finishing by adding crumbled queso fresco on top.

Enjoy!